A Quality Roof Now proudly serves home and business owners in Richland, Washington. A Quality Roof Now offers top-quality roofing services. If you are looking for a new roof, their roofing professionals have the experience, skills, and knowledge to get the job done right.
As a locally owned and operated company, they understand what home and business owners experience in the Richland area. The high winds that can blow any time of the year can lift and deposit sand under aging or improperly installed shingles. The heat and freezing temperatures can make old roofing systems brittle and susceptible to breakage. When those lifted and aging shingles suffer such treatment, they eventually lose their ability to protect the roof and your home or building from rain and melting snow. From extreme weather conditions to specific Richland and Benton County building codes and regulations, the team at A Quality Roof Now has the knowledge and resources to handle any roofing project.
In addition, A Quality Roof Now is a master elite roofing company with GAF. That means they have been vetted and factory-trained to offer home and business owners the highest warranties in the building industry for newly installed asphalt shingle roofs. This means you can confidently choose A Quality Roof Now for your roofing project.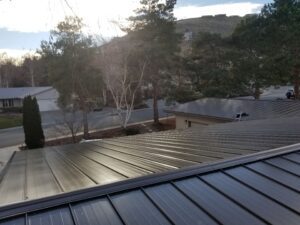 Metal Roofing in Richland, WA
A Quality Roof Now also specializes in metal roof installation. Metal snap lock panels protect the roofing structure and give a sleek, beautiful look to different styles of homes and buildings.
Many home and business owners are looking to replace low-sloped roofs like those on porches, additions, and flat-roofed buildings. One might find that the slope of their roof is just too low to be covered with asphalt shingles or metal roofing systems. A Quality Roof Now solves this problem with the installation of a single-ply roofing system called TPO (or thermoplastic polyolefin). TPO is a thick rubberized sheet that is welded in place to form a tough protective layer for low-slope roofs. TPO is also a budget-friendly option for home and business owners.
No matter what your roofing needs may be, the roofers at A Quality Roof Now are here to help residents and business owners in Richland. They offer competitive pricing to make it easier on your budget to get the roofing services you need.
Quality Service
At A Quality Roof Now, they are dedicated to delivering the best possible roofing service to customers in Richland. Their contractor and professional installers take pride in their work. Their contractor is easy to speak to. He takes the time to answer questions and provide you with the information you need. And their team is committed to going above and beyond to ensure your satisfaction. If you are in need of roofing services in the Richland area, don't hesitate to contact them. If you are looking to replace your existing roof, they would be happy to provide a free consultation and quote for your project. They look forward to answering questions and serving you with all of your roofing needs.
Call A Quality Roof Now today at 509-439-1783.