The professional team at A Quality Roof Now serves the home and building owners of Prosser with the best quality roofing services. Their professional roofing experts have the knowledge and the expertise to evaluate your roof and provide the needed evaluation, repairs, or, if needed, a full roof replacement. Whether your roof is sloped or flat, A Quality Roof Now are specialists at installing asphalt shingles, snaplock metal and TPO systems. Their trusted roofing professionals will listen to your concerns and provide you with the information you need so you can make the right choice for you and your home or building.
A Quality Roof Now is a local roofing company you can trust. They are a GAF Master Elite company. That means their team is factory trained and continues to stay current on the industry's latest technology. It also means that A Quality Roof Now is vetted so you can be assured that they are fully licensed and bonded. They are also a member of the Better Business Bureau with an A+ rating. You can make sure their roofing professionals will work to earn your satisfaction and provide quality roofing.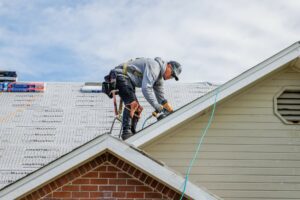 Roofing Experts in Prosser, WA
A Quality Roof Now understands the effects of the harsh weather like the intense heat, wind updrafts and wind shears on construction in the Prosser area. They are also familiar with the building codes and regulations in Prosser and Benton County.
The experienced roofing professionals are happy to evaluate your roof, provide a quote, and answer your questions. Call A Quality Roof Now at (509) 439-1783 about your new roof replacement in Prosser.
Reviews from verified customers:
"Thank you. Fast-Friendly-Quality. Looks Great. ***** 5 Stars." -K.B.
"Thank you for all the hard work your team put in to providing us with a new roof. We greatly appreciate it!" -K.R.
Call A Quality Roof Now today at 509-439-1783.