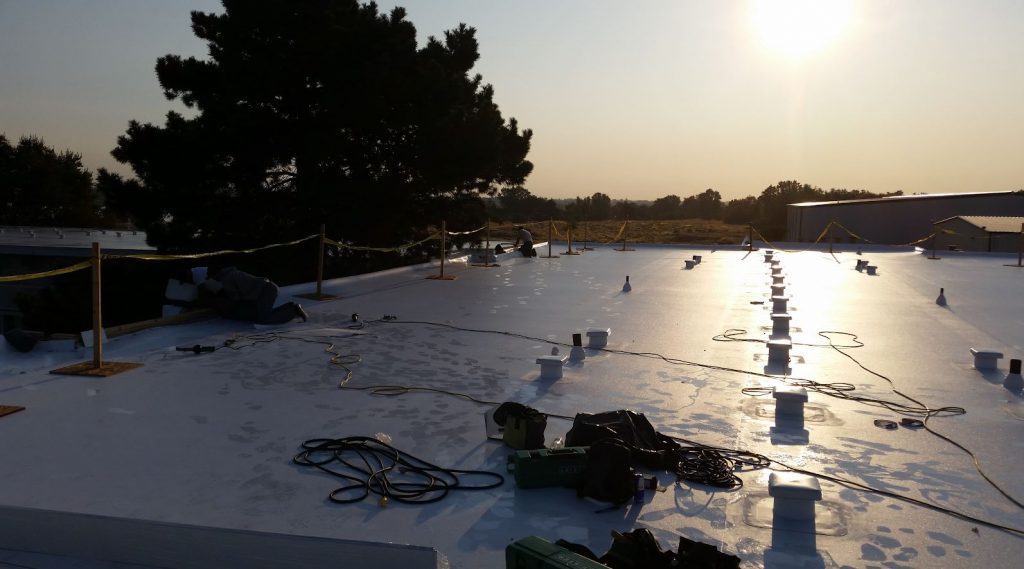 A Trusted Commercial Roofing Company from Kennewick, Richland, and Pasco to Yakima and Surrounding Areas!
New Commercial Roof Installation
Fully Licensed and Insured
Reliable
Professional
Manufacturer-Trained Roof Installers
TPO and PVC Single-Ply
Here is what commercial property and business owners from Kennewick and Union Gap said about A Quality Roof Now…
"They did what they said when they said for the price they said! Can't beat that!!" Brad T.

"Provided a quick bid. Was very competitive and started without delay. Personable crew, excellent job and cleaned up after themselves. Will hire again." Patricia M.
No matter your establishment-business office, retail store, warehouse, manufacturing facility, church, restaurant, school-A Quality Roof Now's professional, commercial roofing team has the training and experience to get the job done right! A continuous upkeep and an end-of-day cleanup is performed to keep the job-site safe, clean, and presentable. Our team regards proper property protection essential to preventing damage to your staff and assets in the course of installing your new roof.
A Quality Roof Now has the proper licensing and insurance to protect your organization. We are certified, factory-trained installers for GAF TPO and PVC single-ply roofing systems, so your organization receives the highest quality service and workmanship to complete your project.
A Quality Roof Now strives for excellent communication and organization, so you can trust that your job is done properly, on schedule, and on budget.
What You Can Expect from A Quality Roof Now:
First, we provide you with a consultation to identify your needs and goals.
Second, you will receive a written, detailed proposal which outlines the materials that will be used and the work that will be performed. In addition, this information, as well as digital images, are easily accessed on our secure, online customer portal so you can share your project with others inside or outside of your organization when you need it.
Third, after the proposal is accepted, the work is scheduled to fit your schedule and needs.
Fourth, the installation starts and, if desired, daily updates are provided through our secure, online customer portal.
Fifth, your project is completed with an outstanding parts and labor warranty.
Once started, A Quality Roof Now works on your project until it is finished. We do not start your project and leave it unfinished to complete another customer's job. We take pride in our timeliness and our dedication to your roofing project.