Check out this awesome patio room epoxy finish cement floor! Yes, it really is cement!
Troy assisted Mark Jones of Rescue Construction and Restoration with Sundeck's coating and restoration system as he transformed his newly-built, forest-themed patio room with this artistic epoxy finish. The last time I saw this room, it was under construction and the ground was a typical gray cement floor. Mark, with his chosen landscape artisan and further assisted by his wife and daughter, brought the love of the wilderness to his backyard! As you can see by the blue painter's tape, this project was still ongoing. But already, you can see how a decorated epoxy finish flooring can add to the beauty Mark was creating in this outdoor getaway. Check back to this blog for a finished project image!
Find out about Epoxy and other Decorative Cement Finishes
Call (509) 439-1783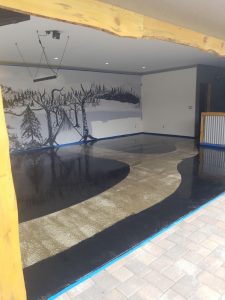 An Epoxy Finish is great for:
Entry Ways
Patios
Sidewalks
Garage and shops
Transforming indoor and outdoor spaces
Commercial properties of many types
Protecting and strengthening cement flooring
Find out more about epoxy finishes and other decorative cement choices for your project!