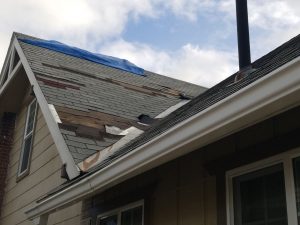 Roof Repairs or Replacement: Is Your Roof Wind Damaged?
Did you know that winds of up to 45 mph can cause damage to a home's roof-and roof repairs maybe needed? The National Weather Service considers these winds as "non-severe" conditions. But with winds reaching that speed, it may do more damage to your roof than you might think.
It is in your best interest to keep your roof in good shape so it can continue to protect your house, which is often your largest asset. In addition, it's important to recognize when its time for critical roof repairs and replacements. Missing or loose shingles are tell-tell signs that you need to get your roof inspected by a roofing professional.
Why should you act now if you have missing or loose shingles?
Aside from the visual aspect of your roof having patches of loose or missing shingles, there may be some underlying issues that are more serious than what you can see with your eyes. Missing or loose shingles can allow water to trickle down into the roof structure. As the result, trapped moisture can create an environment where rot, mold or mildew can grow. This is neither good for the residents of your home nor for your roof. Overtime, the structure of your roof can weaken.
How to know if you have wind damage to your roof?
It isn't always easy to tell if damage has occurred to your roof. This is especially true if you are looking up at it from the ground level. You may see your roof is missing shingles or discover shingles in your yard. Some of the shingles on your roof may be curled, damage or torn. In other cases, there may be hidden signs of wind damage to your roof such as lifting of the shingles. This raising of shingles may happen along the edges of your roof. In fact, this is usually the most common damage which goes unseen by homeowners.
How A Quality Roof Now can help you?
A Quality Roof Now provides a thorough inspection of your roof, so you know what is going on over your head. If they see signs that your roof is allowing water to enter your home, they can further investigate it with sophisticated thermographic imaging and cameras to help determine if you are looking at a roof repair or a replacement.
If your roof's damage is severe, your insurance company may cover the replacement of your roof. Did you know at A Quality Roof Now they can help you as you work with your insurance company if you have an existing claim or plan to file one? Commonly, insurance adjusters rely on a professional, licensed, and bonded roofing contractor like A Quality Roof Now to identify damage that is missing from their reports. This is important because it may save you money when replacing your roof.
Not only is A Quality Roof Now ready to make the process easier for you, they strive to provide the highest quality of materials, trained installers, and customer service. They stand behind their work and offer some of the best manufacture and labor warranties in the roofing industry. Your roof and your satisfaction are important to them!
With the recent wind storms in the Yakima and Tri-Cities areas, did your roof receive damage like missing or loose shingles?
Give A Quality Roof Now a call to see if if your roof is wind damaged. Call (509) 439-1783
"Troy was quick to respond even after a huge wind storm when hundreds of people were in need of
repairs, Troy was able to get my roof fixed in a timely fashion at an affordable price. I would definitely
use TAB Enterprises again and would highly recommend them to anyone! They do a great job, fast,
reliable, and affordable service. Troy is very customer service oriented and honest. Highly
recommended!" Chris K., Richland